my first new post of 2012!! unfortunately, i'm not posting a project, so now you're probably wondering why i'm posting then. lol well, this post will fill you in on what i'm working on, will soon be working on, and future projects i'd like to do. up first, my new bathing suit.
if you haven't seen any of my other posts, i will tell you that i am fascinated with the styles of the 50s and 60s. i don't know what it is, but something about those style eras captivates me. i've been making circle skirts, but then decided i wanted to add more retro wear to my wardrobe. i cam across this free bathig suit pattern on BurdaStyle and instantly fell in love with it b/c it is vintage inspired.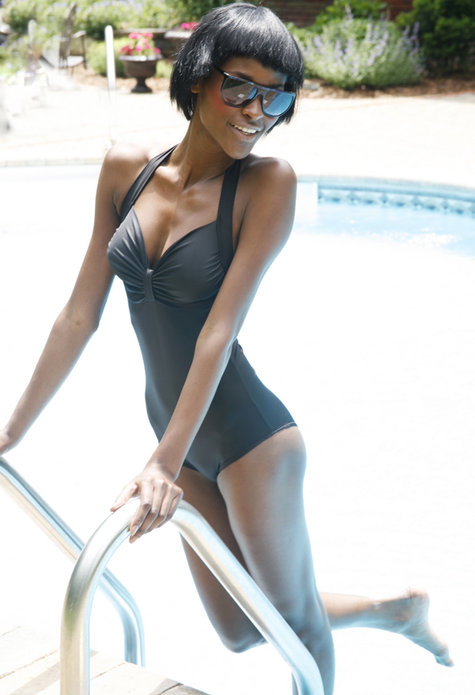 so, i purchased fabric to make this suit following their pattern, but at points it's vague and after awhile it started gettin' on my nerves so i put it down. i then started creating my own suit design and making it out of some more fabric i bought. so far, my design is going much easier. i can't wait 'til it's finished and can share the finished product with y'all!!
after my bathing suit, my next project idea is to make a 50s dress. my inspiration is this red one i have on.
this one i bought from the clothing store i work at, and it is the red Alika made by Bettie Page. i absolutely love these atyle dresses and wanted more, so i bought some fabulous plum colored stretch bengaline from Joann Fabric to make my idea a manifestation.
now, for the final project that's in my head right now. the inspiration for this one is courtesy of Modcloth. love this site, and one day i WILL order something from them!! i saw this jumper when i was browsing the site earlier tonight and fell in love with it b/c of the wonderful retro look it has. so i thought, i can make that!!...and make that i shall!! of course i'll have to tweak it to fit my personality and my likes, but i'll def have something similar. (i hate it's not bigger, so if you want a closer look here's the link:
http://www.modcloth.com/shop/dresses/jumper-to-it
#)
so, back to my sewing machine it is! well, that is, tomorrow, when it's daylight and i've slept :)